Westie Special 2017





Das Westie Special 2017 findet im Rahmen der Ausstellung der OG Dormagen am 28.05.2017 in Dormagen statt.



Gerichtet werden die Westies von der Rassespezialistin Frau Brigita Kremser.

Neben den regulären Klassen, wird es im Rahmen des Specials auch eine Haushundeklasse geben.

Ehrenpreise gibt es für jeden Klassengewinner, zusätzliche Pokale, Schleifen und Ehrenpreise für Jgd. CAC, CAC und Vet. CAC. – jeder Teilnehmer erhält eine Erinnerungsgabe.



Wir hoffen auf ein gut besuchtes Westie Special 2017




Unsere weiteren Richter:

Peter Lauber (CH)
Torsten Himmrich (D)

Infos auf www.terrier-dormagen.de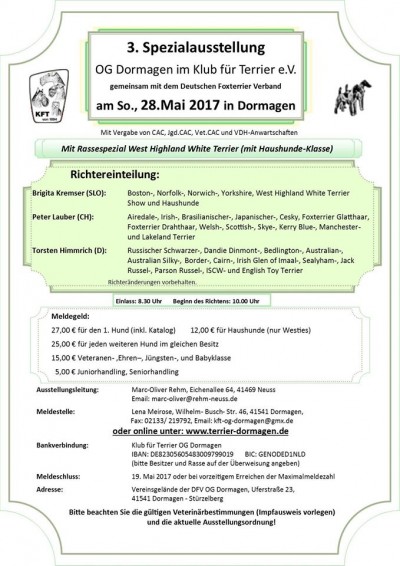 Westie Special 2017



The Westie Special 2017 will take place in Dormagen on 28 May 2017



Westies will be judged by the breed specialist Mrs. Brigita Kremser.

In addition to the regular classes, there will be a so called "pet class" (good citizen dog class).

Prizes for each winner of their class - additionally trophys, ribbons and gifts for each Jgd. CAC, CAC und Vet. CAC – every dog will receive a "Westie Special"- present.

We hope for a well-attended Westie Special 2017


Whole judging panel of Terrier Specialty Dormagen:

Mrs. Kremser, Mr. Lauber, Mr. Himmrich

For further information visit our site:
www.terrier-dormagen.de

Ein Teil unserer Ehrengaben wurden uns freundlicherweise von

Warmias Nadelwelt


http://warmiasnadelwelt.jimdo.com/ zur Verfügung gestellt. Herzlichen Dank.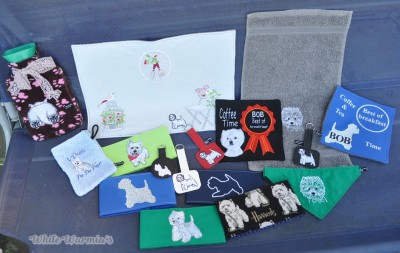 Richtreihenfolge und Ringeinteilung
Ring 1 - Richter Peter Lauber, CH – 72 Hunde

Foxterrier (glatthaarig) ( 8 )
Foxterrier (drahthaarig) ( 8 )
AiredaleTerrier (10)
Irish Terrier (6)
Welsh Terrier (6)
Scottish Terrier (6)
Skye Terrier (1)
Manchester Terrier (1)
Lakeland Terrier (2)
Dandie Dinmont Terrier (2)
Australian Terrier (3)
Australian Silky Terrier (3)
Cairn Terrier ( 8 )
Sealyham Terrier (4)
English Toy Terrier (3)

Ring 2 – Richterin Brigita Kremser, SLO – 72 Hunde

Boston Terrier (6)
Norfolk Terrier (3)
Yorkshire Terrier (4)
West Highland White Terrier Showhunde (27)
West Highland White Terrier Haushunde (32)

(ab ca. 12 Uhr)



Ring 3 – Richter Marcus Werths, D – 31 Hunde

Russischer Schwarzer Terrier (11)
Border Terrier (3)
Bedlington Terrier (1)
Jack Russel Terrier (5)
Parson Russel Terrier (6)
Irish Soft Coated Wheaten Terrier (5)